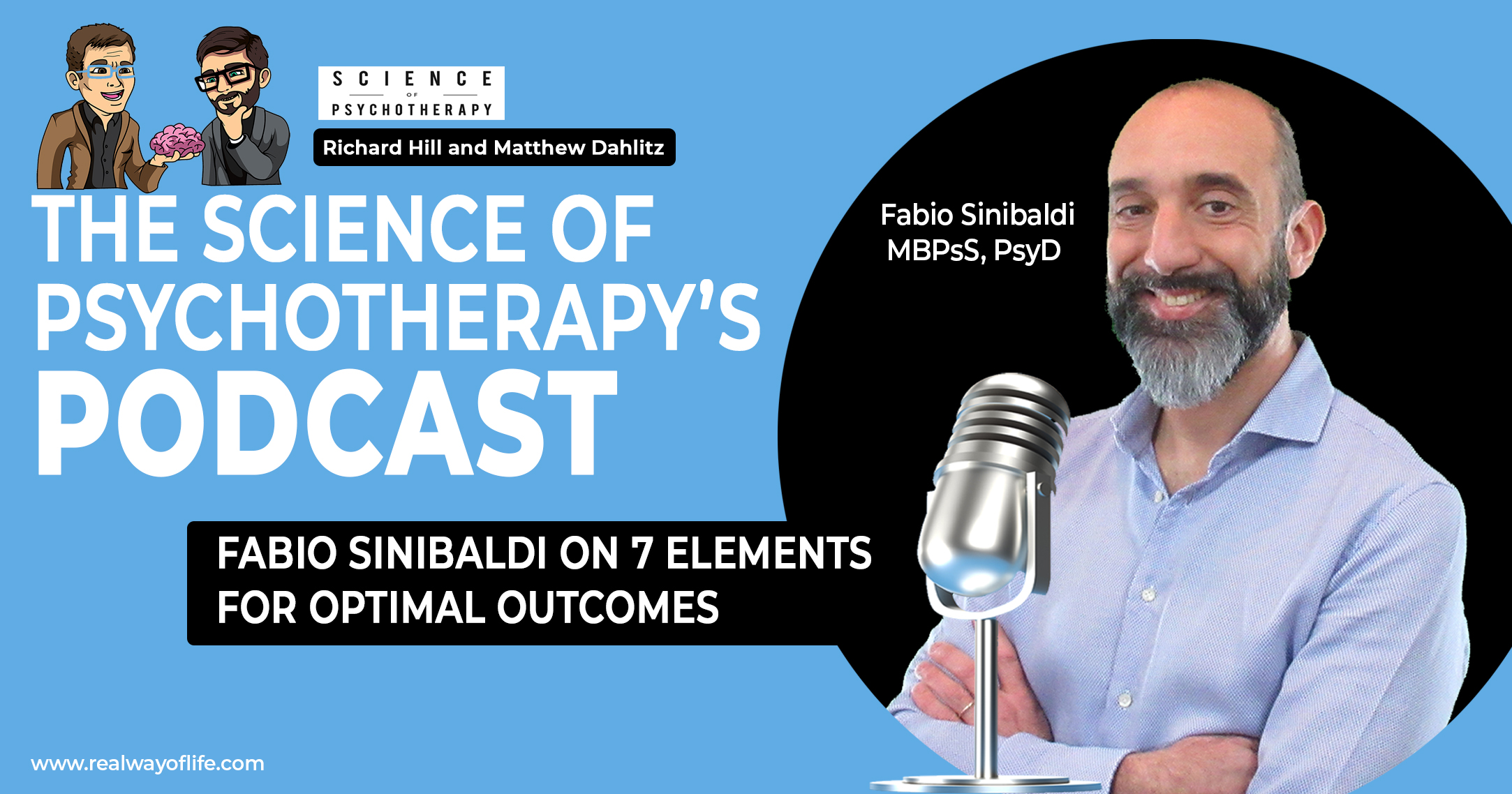 09 Oct

The SCIENCE of PSYCHOTHERAPY's podcast: Fabio Sinibaldi on 7 elements for optimal outcomes

"We are back in Italy this week to talk to Fabio Sinibaldi, one of our regular contributors and an expert in mind-body therapy. Fabio and colleagues have done a remarkable job of finding both biological and psychological markers of change as they experiment with elements of therapy that are most effective. We talk to Fabio about the latest research and findings, and not a few takeaways from what they have found."

– Richard Hill and Matthew Dahlitz – The Science of Psychotherapy

You can find more details about the study in this article.

Some selected excerpts from the podcast:

[transcription powered by AWS Transcribe Artificial Intelligence]

Richard Hill:
…the realisation that I think looking at Fabio's working, how much you have brought forward that we keep thinking we've figured everything out, but we haven't. Now instead of figuring out the elements, now we're bringing them all together. I think this's the time of integrating and understanding how to integrate. And you Fabio are absolutely a world leader in this activity.

Richard and Matt:
[Fabio] He's given himself an incredible field that he studies… Fabio is an expert in Applied Neuroscience and PsychoNeuroEndocrinoImmunology. That was that brilliant either. And so interesting that there's no reason in the context of systems thinking to not bring together all these different words… So now what we have to do is sort of like a marriage: we have to put all together… So all that the psycho, the neuro the endocrino (the hormonal system) and the immune system, they're all linked and connected. So So that's what he's work describes. Okay, So brilliant.

We've just released an article of yours and it's The seven elements for optimal outcomes in psychotherapy. Fieldwork results. And we thought it would be a fantastic opportunity for us to get the man himself in front of the microphone and talk about flesh out some of the details of this article.

Fabio:
…I liked (doing this research) very much, on 2 levels. One is the topic itself: effectiveness, practical integration, for daily practise of the therapist, not for the theory's sake. And so it was amazing to do something practical in this way. The other level was how way carried on this research…: we used the classical self-reports from patients and therapist, but also hard sciences, such as a cortisol level, testosterone level, HRV (Heart Rate Variability) that is a really simple and powerful tool to monitor our stress response in the body immediately and also in the long run.

Matt:
Yeah, this is what I love about your process. I mean, you're not just doing the self-report, you're actually getting cortisol levels. You're getting vagal tone, a heart rate variability and all of these very medical sounding variables, and I want to know by the end of our discussion today, just what sort of changes you are finding out happening physiologically…

Fabio:
Another tool we used a lot was to analyse the video footages of different sessions. This was very powerful to increase the awareness of the therapist…and in the quick responses of our client/patient we are not aware of, because we are too much into the 'live' situation.

…first of all, a different approach about how the initial evaluation is going on. I love complexity. I think we have to deal with all the complexity of the humans, and so we have elaborated different models such as the Switches, which goes from the cell to the brain networks to the muscles we engage in stress responses, etc. And it's a lot to take into account for the therapist itself, even if it is trained in this kind of approach. So we suggested to the therapists to share maps, schemes... I personally use a huge flip chart in my sessions, and I draw these schemes – or share other chart or tables – on the iPad.

We have noticed that this kind of approach relaxes and makes the therapist more natural because we don't have to do too much mental effort to keep all in mind. And, even more, it is useful for the patient, because he thinks "wow, this is a huge (comprehensive) approach"…. So the trust is raising in approach and in the therapist, and also patients can follow the process and sometimes they bring at home the paper-sheets, they take a picture off these schemes and keep bringing on the process begin between the sessions…

Richard:

But I think it was really nice for me, what Fabio was pointing out is that you don't have to do everything in order to achieve a lot. Sometimes you have to do something very small and that can begin the cascade of activity elsewhere. A little bit here, a little bit there, a little bit in the other place. That's the encouragement. It's not like you have to do a on an incredible workout to be healthy.

Matt:
Yes, they're coming back to complex systems again. A little bit of input here can eventually have a great outcome in other areas. I thought it was fascinating about the aspirin, as a stimulus to reduce inflammation and then it makes the psychotherapy more effective.